CANTON, Mich. – Lotus International Company – a world-class Michigan manufacturing partner – announced today that Michelle Winowich, a winner of the hit television show Shark Tank, will join the company in a business development role. At Lotus, Michelle will play a key role in growing its lower-carbon technology and mobility business as the official licensee of Shell RIDE e-scooters and e-bikes.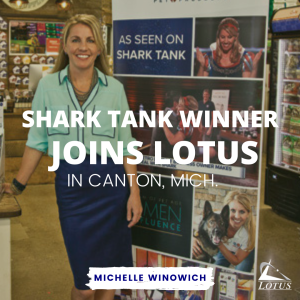 In Season 9 of Shark Tank, Winowich made history by accumulating more than $2 million in sales within the first six months of product launch, and she was named a Women of Influence in 2020 through Bridge Tower Media. 
"As we look to continue building on our success as an organization, we wanted a strong leader who would look beyond any and all roadblocks to grow Lotus in new ways," said Prasad M. Koppolu, Chief Operating Officer (COO), Lotus. "Michelle is the perfect leader to propel us forward. Her talent, knowledge, and drive are undeniable and unmatched in this space."
Winowich shared, "The work that Lotus has accomplished throughout its near 30-year tenure as a manufacturing and technology partner of choice is nothing short of amazing, and I am ecstatic to bring a new passion and intensity to fuel future growth."
From its 300,000 sq. ft. facility in Canton, Michigan, Lotus partners with global manufacturers and retailers to build and operate better manufacturing practices, product integration, service, and testing, with an unparalleled level of service and dedication.
Learn more about Lotus at www.licus.com 
About Lotus
Lotus International Company is a private corporation providing clients with full-service reliable contract manufacturing, assembly, testing, and warranty-services with reliable and proven results across pre-sales and post-sales solutions that include asset recovery, call center, returns processing, technology, logistics and fulfillment services. Since 1995, the leaders at Lotus have been committed to serving the world's most successful companies in manufacturing, consumer products, medical devices, electric vehicle and mobility solutions as well as high-tech emerging industries from its Michigan headquarters. For more information, visit: www.licus.com  
Media Contact
Don F. Mclean, McLean Media
+1-734-716-4182
###